WHAT'S THE BUZZ
Carol Hagen is the purveyor of ARTISAN CREAMED HONEY. "I transform small batches of raw, Tennessee honey into an aromatic and creamy spread of pure honey and organic spices. Pair my Nashville-made honey spreads with sharp white cheddar, sliced apples, bagels, baked sweet potatoes, grilled salmon, cake icing, sauces, roasted chicken or a SPOON! "

ARTISAN CREAMED HONEY is made using Strange Honey Farm - Sourwood honey. My unique crystallizing recipe transforms liquid honey into a creamy spread. It really does ignite smiles and laughter with rolling eyes and calls for "You gotta try this!"



OUR HISTORY: I introduced JOHNSON CREAMED CLOVER HONEY on October 23, 2013 at the Nashville Women Breakfast Club after spending the summer of 2013 developing an original creamed honey recipe. I continue to be pleased with the bright eyed smiles my infused honey flavors ignite. When Mr. Ed Johnson passed away on January 3, 2014, his daughters suggested I change the name of the creamed honey line and so... ARTISAN CREAMED HONEY took on a life of it's own. Thank you, ladies! I sincerely appreciate your encouragement. Scroll down for product list & availability.

---
FLAVOR INFUSED
Our culinary goal
is for you to taste the unique flavors of the honey; followed by a subtle flavor of infused organic ground cardamom, orange essential oil or ground cinnamon. Holiday special: cinnamon-clove.
Chefs are invited
to provide their own herbs and spices for custom infusions and special event orders.
Market Managers may inquire
through the
Contact
page of this site.
Pure, raw Sourwood
creamed honey is a spreadable honey the thickness of brie or custard; it's the perfect compliment to cheese boards, charcuterie boards, fresh cut apples or bananas or peaches.
Try my original recipe raw creamed honey, with or without flavors, in savory sauces and marinades for salmon, Cornish hens, chicken, pork AND sweet drizzling sauces.
Got a successful recipe!
Contact
me, I'd love to hear about it.
Orange creamed honey is amazing on hot baked sweet potatoes and with sweet potato fries.
Cardamom honey is delicious on sliced pears as a light desert.
Cinnamon honey is pure heaven on
Belgian pancakes.
Ginger honey is extraordinary when paired with cheese, especially Kenny's Kentucky Rose cheese.
Cinnamon-Clove honey taste like Christmas smells.
---
600,000 bees and I applaud your visit.
Enjoy our honey and "bee-aware" of simple
steps you can take to help the bees.
Carol Hagen, honey artisan and beekeeper
Queen Bee Pollinators
Tennessee Artisan Honey
Artisan Creamed Honey
Nashville, TN
---
TENNESSEE ARTISAN CREAMED HONEY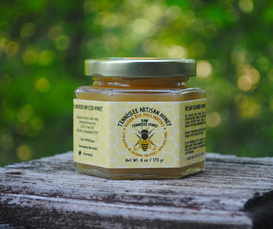 SMALL CREAMED HONEY - 6oz
Pure, raw Sourwood creamed honey
Pure honey or creamed honey infused with Cinnamon, Cardamom, Ginger or Orange.


RETAIL CREAMED HONEY: $10 each
CASES OF 12 - one flavor or mixed: $9 each / $108 per case
MARKET MANAGERS: Please call for a tasting appointment and wholesale pricing.
AVAILABILITY: Creamed honey is available September through April. Temperatures - over 85* impacts this product by melting the spreadable honey into liquid honey.
USES: 6oz jars of creamed honey are the perfect hostess gift or Made in Tennessee souvenir for your guests or family.

---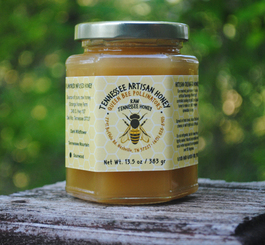 LARGE CREAMED HONEY / 13.5oz by special order
Pure, raw Sourwood creamed honey
Pure honey or creamed honey infused with Cinnamon, Cardamom, Ginger or Orange.

RETAIL CREAMED HONEY: $15 each
CASES OF 12: $14 each / $168 per case
HALF CASE OF 6: $15 each / $90 per half case
MARKET MANAGERS: Please call for a tasting appointment and wholesale pricing.
AVAILABILITY: Creamed honey is available September through April. Temperatures - over 85* impacts this product by melting the spreadable honey into liquid honey.
USES: A great buy for the family breakfast table. A delicious, nutritional alternative to butter and jam. (2/10/2016 price increase)

---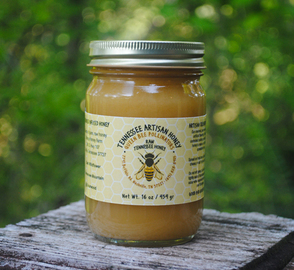 COOK'S CHOICE/ 16oz - 1 lb
Pure, raw Sourwood creamed honey
Pure honey or creamed honey infused with Cinnamon, Cardamom, Ginger or Orange.

RETAIL CREAMED HONEY: $20 each
CASES OF 12: $19 each / $228 per case
HALF CASE OF 6: $20 each / $120 per half case
CHEFS and MARKET MANAGERS: Please call for a tasting appointment and chef pricing.
AVAILABILITY: Creamed honey is available September through April. Temperatures - over 85* impacts this product by melting the spreadable honey into liquid honey.

USES: 16oz jars of creamed honey are great in the professional kitchen and for the home connoisseur. This Mason jars fits nicely in your hand, with a firm spatula you are able to wipe the jar clean, no waste! (2/10/2016 price increase)

Queen Bee Pollinators, 7741 Buffalo Road, Nashville, TN 37221 ©

---